(Left) Chick with spraddle leg (Right) Normal chick
I had my oldest and youngest children with me today, so I enlisted help from my teen and toddler to get some action pics as we observed and collected data on each bird.
I was collecting data on three things--feathered/unfeathered feet, pea/straight comb, and general size. I can already tell what chicks are carrying the gene for blue eggs (meaning they may produce blue, blue-green, or any other shade of green, like olive) and which are not (and in this group of chicks, a single/straight comb means the bird will lay a brown egg, very very likely a DARK brown egg).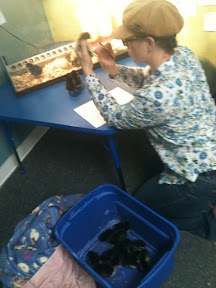 It was nice to get a look at each chick for other reasons. You can tell a lot about the healthy and vitality of a chick by simply handling it and seeing how it physically responds, how its eyes look, how alert and active it is, and how its feathers are coming in.
I was also checking each chick's vent (the multi-purpose orifice on their bottoms) to make sure no one was "pasting up". As unpleasant as it sounds, a little poop can stick there and attract more and more until a hard mass can actually obstruct the vent, which means the chick can't poop and can get very ill or die. It's not extremely common, and if a mother hen was raising them she would take care of it before a problem arose. Today we had one chick with the problem and I took the time to make sure it was nice and clean before leaving. I'll keep a close eye on that one, and I may add some dry oatmeal to their feed as it helps avoid having the problem altogether.
I spoke with a couple parents today who said they were enjoying looking at the blog with their children at home--I'm delighted to hear that! I hope this blog will provide many opportunities for children to bring home what they are learning and share their experiences with their families. Every child has a favorite chick and I'm trying to make sure I get pics of all of them. Some parents have also shared that they are considering getting chicks. If you have questions about that, let me know! Commenting here is the best way to make sure I see and respond to you. You can also get my email address from your child's teacher.